Note: Last month, we announced that Aimee Witteman, Midwest Climate & Energy program director, will step down from her position on July 30, 2020. After 10 years with McKnight, Aimee is pivoting to new adventures. Following are Aimee's parting reflections on the climate movement and climate philanthropy, including her thoughts on McKnight's newly expanded climate grantmaking. 
---
As I wind down my time at the McKnight Foundation and engage in reflection and planning for what's next, I'm deeply moved by the transformation happening across our country. The Covid-19 pandemic and the murders of George Floyd, Breonna Taylor, and Ahmaud Arbery—among countless others—have laid bare the painful inequities and structural racism that have persisted for centuries, including right here in Minnesota. At the same time, thanks to creative young organizers and the Movement for Black Lives, who have nurtured underlying social movement conditions for years, we also find ourselves in a time of deep possibility. We are living in what Black Lives Matter cofounder Alicia Garza and others have called a moment of "uprising, reckoning, and change."
What This Moment Requires
What does this transformational moment mean for the climate movement and for climate philanthropy? The Movement for Black Lives has a concise demand—we must divest from inequitable systems and invest in new leadership and solutions rooted in the communities most affected by the challenges we face. This requires steps beyond "carve-outs" for organizations led by Black people, Indigenous people, and people of color (BIPOC) and beyond commitments to diversity, equity, and inclusion. As Garza and others have made clear, it requires paying attention to how we lead in this moment, who is leading us in this moment, and how we redirect resources and power in this moment. It is especially important for white people—like myself—to grapple with the implications of these questions in our communities, in our organizations, and within the climate movement.
"Racism makes it impossible to live sustainably and racism prevents us from winning on climate."—AIMEE WITTEMAN, MIDWEST CLIMATE & ENERGY PROGRAM DIRECTOR
Racism makes it impossible to live sustainably and racism prevents us from winning on climate. This has long been evident to BIPOC communities, and now it's time to acknowledge it has been consistently undervalued by the majority of white leadership within the climate movement. Funding has primarily flowed to white-led organizations and to incremental technocratic top-down policy approaches to addressing the climate crisis. I take responsibility for overweighting toward these groups in my own role within the last decade, and I too am continuing my learning journey.
McKnight has spent time and other resources on internal racial equity work over the past few years. This established the basis for the newly expanded climate program, including the premise that achieving our ambitious climate goals depends on a healthy democracy grounded in racial and economic justice. We know there is a place for a portfolio of approaches to the climate crisis. To achieve economy-wide decarbonization, we must invest in the deeper, often slower, work of building a powerful, multiracial movement for change.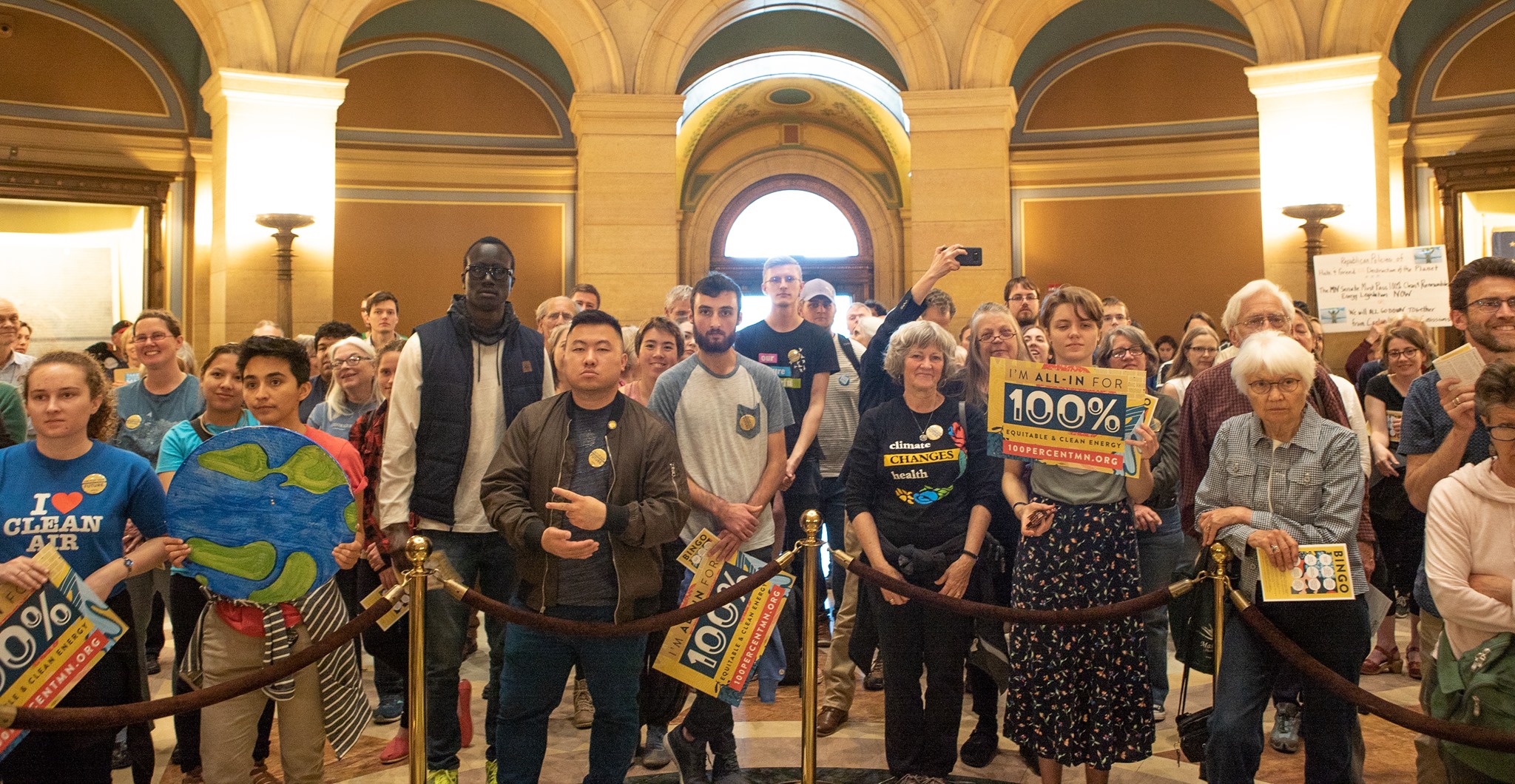 Photo Credit: 100% Campaign, photography by Ryan Stopera
Four Action Steps to Consider
The climate movement and climate philanthropy need to contend with how to strengthen and advance an anti-racist climate movement. The following are four actions to consider, in addition to individual and organizational anti-racist training and intercultural work:
1. Build justice-oriented state-based power that elevates new leadership. This requires increased investment in multi-issue grassroots power-building organizations and multiracial coalitions, like those participating in Minnesota's 100% Campaign. This work will be led by people of color, women, and young people—both new and existing community leaders—who will need the resources and capacity to lead on climate.
This approach recognizes the strategic value of grassroots state-based power as a counterweight to powerful status quo interests. It also recognizes the need to build our individual and collective resilience, along with adaptive capacity, in order to face the climate and socioeconomic shocks that will continue to occur in the years ahead.
2. Strengthen community organizing and narrative practice. We know that we must invest in long-term community organizing capacity—not simply in mobilization—that challenges political and corporate power. Investments in power building in Minnesota and the Upper Midwest must include rural and suburban communities as well as metro areas. In addition to using narrative practice as a way to activate a base, transformative narratives can fundamentally expand our mindsets of what is possible, contributing to the necessary conditions for an effective social movement.
There are inspiring examples of this work. Race Class Narrative brings together rigorously tested messages with organizing strategies and creative communications approaches. The Climate Advocacy Lab is another respected, but underused, resource for aggregating and elevating effective case studies and models of social movement-building, grassroots organizing, and narrative approaches to climate.
3. Innovate, evolve, and embrace art and creativity. McKnight's climate program proudly supports the new Hive Fund for Climate and Gender Justice. The Hive represents the future of climate philanthropy. Among other approaches it uses, the Hive funds ecosystems of groups, including decentralized networks, coalitions, and movement infrastructure. It allows grantees to define success and co-create metrics for measuring progress. Its first round of grantees includes community-based environmental justice organizations, civic engagement groups, and artist-led initiatives such as the Center for Cultural Power.
4. Tie climate change policy to social and economic demands. For too long, climate philanthropy and the climate movement have narrowly focused on technical solutions to greenhouse gas mitigation while dismissing efforts to tie climate policy to social and economic challenges. Researchers at the University of California–Santa Barbara and the Yale Program on Climate Change Communication tested the assumption that tying climate policy to social/economic challenges reduced public support in 2019, and again in June 2020, and found evidence to the contrary. Across the board, linking climate action to economic and social issues—like the Covid-19 stimulus package—increases public support for federal climate action. As Dr. Ayana Elizabeth Johnson recently put it, "How we address climate change will determine what the future holds for humanity. How do you deal with a crisis facing humanity without caring about humans?"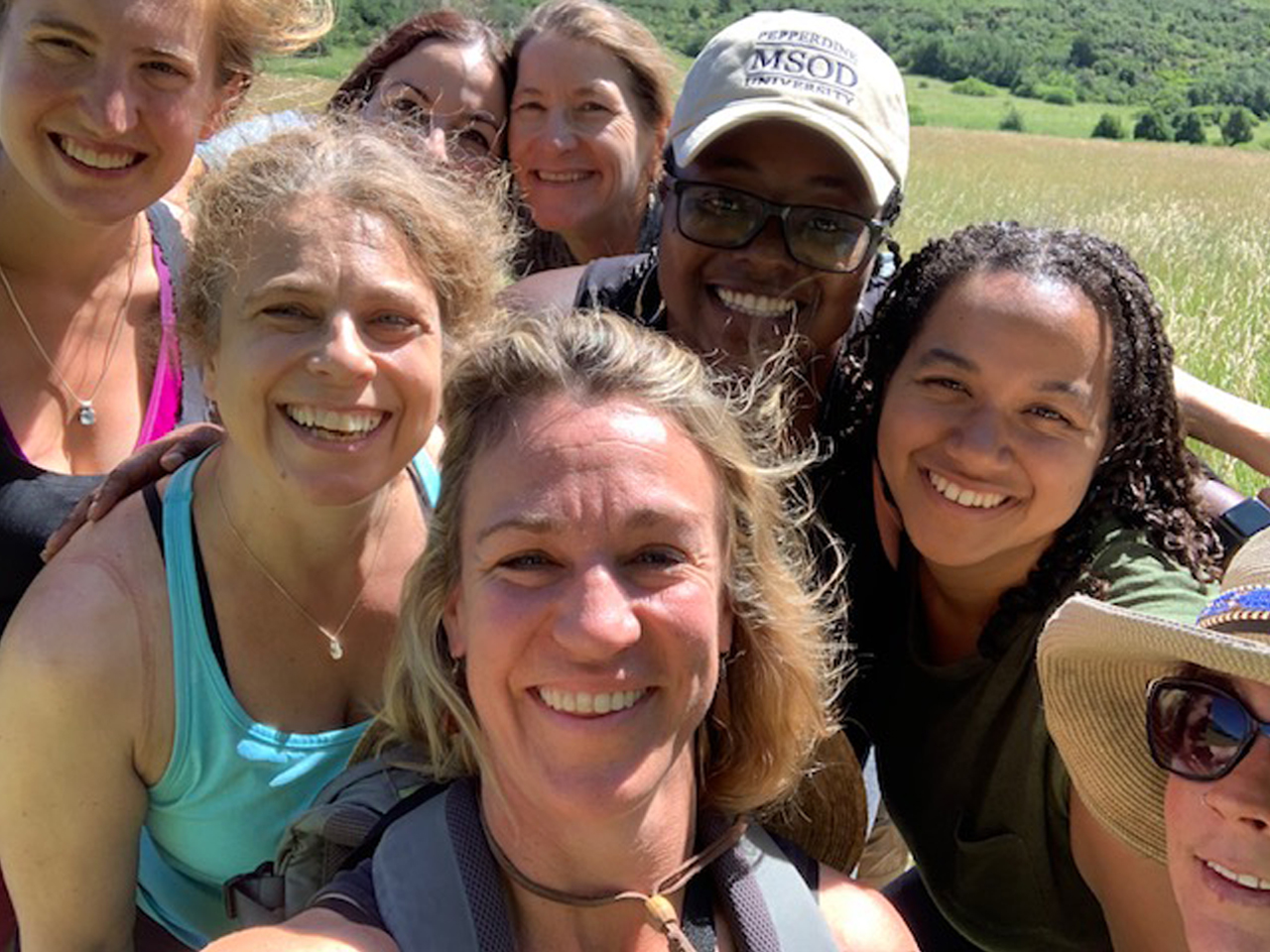 Next Steps for McKnight
Even as I depart McKnight, I will be cheering on the Foundation as it makes progress toward its goal take bold action on the climate crisis by dramatically cutting carbon pollution in the Midwest by 2030. Brendon Slotterback will serve as interim lead, and Sarah "Sam" Marquardt will continue to be an important contact for grantees. Kelsey Johnson, the team's new program team administrator, will also serve as a resource. McKnight will launch a national search for a new program director later this summer and expects to announce the final strategies and program guidelines for Midwest Climate & Energy this fall.
As I prepare for my next adventure, I am profoundly grateful for the opportunity to participate in this work. I believe that people and communities have the wisdom and resolve to advance climate solutions and build a more equitable Minnesota, and I'm excited to see McKnight meet this moment with hope, courage, and boldness.