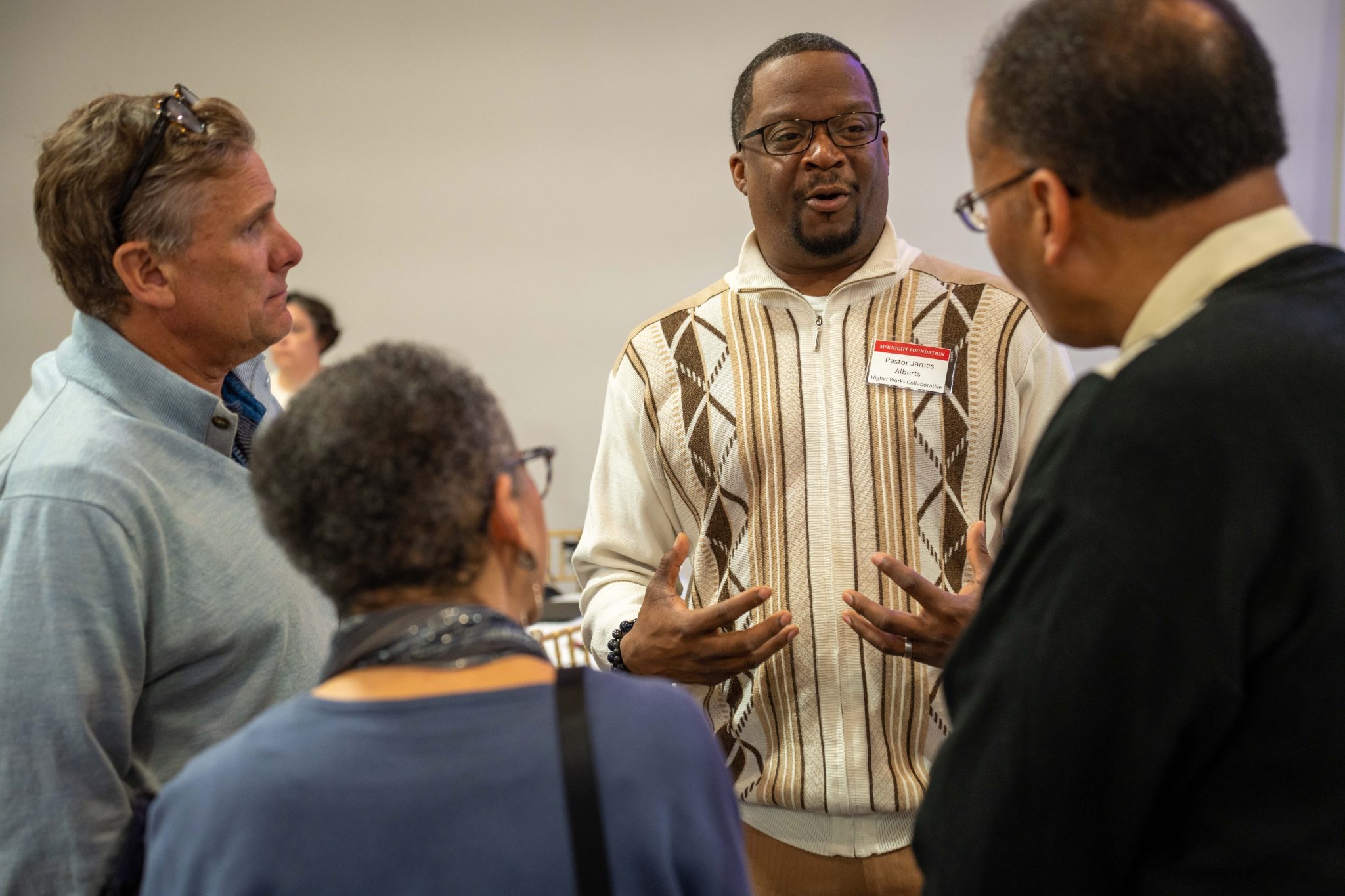 Minnesota is on the path to creating a more just, creative, and abundant future where people and planet thrive. Getting there will take courage and deep cooperation – across sectors, across geography, and across differences. Throughout our state, bold leaders are bringing people together to make more possible with and for their communities. We are excited to kick off our Courageous Characters series, highlighting some of these leaders and the work they are doing to advance vibrancy and equity. 
We met Pastor James Alberts II this spring at a convening with community leaders and grantee partners in St. Cloud and the surrounding Central Minnesota region. We were inspired by his advice on how McKnight can better support communities in coming together to build a collective future: "Find courageous characters who are able to build relationships, put aside their own stuff, and represent their communities," he told us. We took his words to heart, and we're delighted to feature Pastor Alberts as our first Courageous Character. 
Pastor Alberts leads St. Cloud's Higher Ground Church of God in Christ, serves as the Jurisdictional Secretary of the Minnesota Churches of God in Christ, and is the CEO and founder of Higher Works Collaborative, a nonprofit working to advance the lives and livelihoods of the African American community in Central Minnesota. He is also the board president of McKnight grantee partner organization ISAIAH, a multi-racial, state-wide, nonpartisan coalition of faith communities and community-based constituencies fighting for racial and economic justice in Minnesota.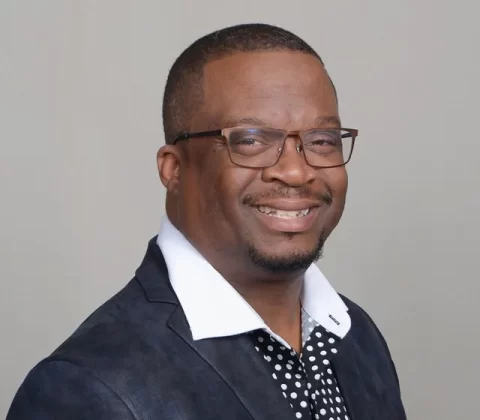 Pastor Alberts moved to St. Cloud in 1995 and has spent nearly 30 years working to build a stronger, more inclusive, and more equitable Central Minnesota community. In 1997, he was a founding organizer of St. Cloud's first Juneteenth celebration. When Gov. Walz signed a bill into law recognizing Juneteenth as a state holiday this spring, Pastor Alberts was there to mark the occasion. He was named part of 'St. Cloud's new civil rights vanguard' by MPR in 2004 for his work to improve relations between St. Cloud's city administration and the Black, Indigenous, and people of color who live there. In 2007, Pastor Alberts helped develop St. Cloud's Community Policing Agreement, which maps out police and community actions, and he was one of the first to sign it. For nearly two decades, he has worked to keep the Policing Agreement relevant to the community's evolving needs. It was especially helpful in 2016 when racial tensions heightened following a knife attack at St. Cloud's Crossroads Center mall—the Policing Agreement provided a plan for communication between law enforcement and leaders from St. Cloud's diverse communities, and Pastor Alberts was one of 20+ faith leaders who helped guide people peacefully through the tragedy. In 2021, his Safe Spaces project garnered attention for bringing community together for guided conversations about tough topics like race, justice, and community safety.  
For this first Courageous Characters spotlight, we asked Pastor Alberts to share more about the idea of Courageous Characters, and his own experience navigating Central Minnesota's evolving social landscape as a prominent community leader. The interview has been edited for length and clarity. 
McKnight: You introduced us to the idea of 'courageous characters' at our St. Cloud convening in April. What does it mean to be one, and what do they make possible?  
Pastor Alberts: This notion of courageous characters… these are superheroes that are part of the league of humanity that gets powerful work done and makes changes that last a lifetime; they transform lives. Everyone does not need to be a Superman, but there are superheroes everywhere. Taking a little bit of time to shine a light over there and say, 'Look at the great work happening over here,' can do a lot for organizations and people.  
These individuals are usually not working for money, and the work they are able to do is so much more amazing because they must have a wide range of skills. They have to do everything from answering the phone to going on-site, fixing a flat tire to troubleshooting the computer problem for kids' computers. These individuals are tutors, coaches, life coaches, leaders in the community – but they are also members of that same community, with the same struggles and challenges going on in their lives as the people they are trying to help. They have been blessed with just a little bit more, so they can help a handful, a dozen, sometimes hundreds of others. We are blessed to have them. They are the bedrock of the change in society that we all need and want to be a part of. 
"My vision is twofold. First, that being a person of color is not an impediment to success. It's ກ່ຽວກັບ eliminating barriers. Second, once you remove barriers, people have access to the resources they need to achieve their life dreams."— PASTOR JAMES ALBERTS

McKnight: What future are you working to build? 
Pastor Alberts: My vision is twofold. First, that being a person of color is not an impediment to success. It's about eliminating barriers. Second, once you remove barriers, people have access to the resources they need to achieve their life dreams. People being able to live the life that they choose, without the historical societal restrictions that predate them.  
For example, we have to understand that the trauma that comes from things like racism is generational. They are compounded generation by generation. Peeling back those limitations, it is almost unfathomable, inconceivable, the damage that has been done to a group of people who no longer know who they are or where they're from; their own sense of identity is lost.  
So really, removing barriers for people of color means helping them to ascertain what their identity is – who are you, and what do you want to be? And what's in the way of you being that? Those three questions become so powerful in themselves. If you don't know who you are, you don't know who you can be. Then, having a dream is difficult.  
If we harken back to Dr. Martin Luther King, Jr., he had a dream. And that dream he had was inspiring, but it was also a challenge to a people who were told to not dream. They were told, "You can't dream – this is all you get, all you have, all you're going to be – be happy with that and be quiet." That ain't true, and it's not the story that is told by the land of the free and the home of the brave, right? And so, removing the barriers for being a person of color, in my case Black, is addressing my ability to identify myself as who I am, who I want to be, and the things I need to do to get there. 
McKnight: You wear many hats as a leader, in many areas of your community – at church, as a nonprofit executive director and board president, and as an educator. What or who inspires you to act? 
Pastor Alberts: My faith, my family, and my adversaries. Those three groups of people. My faith is important because it teaches me to see things that are not there. You need that in this work because you're working for something that hasn't existed; you need to believe that it is possible. If you don't have faith, that's harder to do.  
My family, my mom and dad, are the strongest people I know. They raised strong children. They taught us not to wait on anybody to do it for you. They taught us to believe in ourselves, and if you believe in it, stand for it – that's mom and dad. I was raised to work hard, not to rely on gifts or talents, but to work hard at it, study hard for it. My mom was undereducated, and my dad had a two-year college degree. My mom couldn't help me with homework, but she could support me with doing it. My dad taught me how to teach myself because I was doing things beyond him. So, I became a continual learner. That always put me in a place where I could adapt and analyze a problem, to seek out solutions and to make things better.  
"I've had people tell me, "You will never be," tell me "It's not going to happen." I've had people tell me in so many words and ways, "Don't even try." Proving them wrong became one of the most powerful drivers in my life."— PASTOR JAMES ALBERTS

That last group, my adversaries - I've had people tell me, "You will never be," tell me "It's not going to happen." I've had people tell me in so many words and ways, "Don't even try." Proving them wrong became one of the most powerful drivers in my life. What you learn is that if you don't have any haters, you're not pushing yourself far enough. In the kind of change I want to see, there are going to be people who are comfortable in their comfort. And so, the status quo is where they think should stay. Any threat to that disturbs them. Well, I am a disturber of the peace.  
The late Senator John Lewis used to talk about "good trouble." James Foreman, in the times of MLK, said that if they won't let us sit at the table, we're going to kick out the legs from underneath it. It doesn't mean that we don't want to participate with, or be part of. It's that for so long we haven't been allowed to be part of the conversation, and have our voices be heard. That doesn't work. If it did, we wouldn't need to work for more equity and inclusion. We wouldn't have a need for such drastic changes. 
George Floyd, Philando Castile, and countless other individuals lost their lives just trying to exist in my lifetime – not the '60s, '40s, 1800s, and times of slavery – these happened in my lifetime. Since I still have to have those conversations, I can't accept that peace works for everybody. Maybe what we need to do is disturb the peace, so it applies better. 
There is an unease that comes to people's minds when I say something like "disturber of the peace." Dr. King said, "It is a cruel joke to tell a man to pull up his bootstraps when he doesn't have any shoes." It's interesting for a group of people who are comfortable to tell the other group asking to be comfortable how they should do that. If I get on the bus and I say out loud, "My feet are tired," and the person sitting down in the chair says, "You should take a load off," but they don't want to share the seat, what exactly are they saying? The truth is, we don't get a chance.
McKnight: You moved here from Texas in 1995. What do you love about Minnesota, your community, and your people? 
Pastor Alberts: I have a saying for my community: "We are big enough to make a difference, and we're small enough to make it happen." We can pick up the phone and call each other to move change. We can analyze a problem, see what needs to be done, and put a plan together to address it. We're not perfect; it takes strength, and it takes time. But we respect each other's position in the places we are in, and we work hard to get through it. 
When people ask me what Minnesota is like, I tell them: "We can do it." We're innovative, creative, determined, intelligent. We are full of questions, but we are focused on the answers. We get bogged down with the same things other people can, but we brush it off just like we brush off the snow in the morning before we go to work. Minnesotans know when winter is coming. We're not surprised by that or put off by it. You put on another layer, and you go out there and get it done. And that describes how we take on situations. In my work, community organizing and the like, all the different things we've done – it's gotten hard, but nothing that we ever did was met with a "Just quit," it was always met with a "Can-do." That's Minnesota. 
McKnight: You've spent nearly three decades working to build a stronger, more inclusive, and equitable community in a region that has seen drastic changes in demographics in recent years. Can you tell us more about your experience as a leader in St. Cloud, and about bringing people together across differences? 
Pastor Alberts: This is my city and my people. I claim them and I hope they claim me. They're my family. In my family, I have weird uncles, caring and loving aunts who are excited about everything you do. I have mentoring grandparents, great uncles and aunts. I have cousins and brothers and sisters. And we all have those other people who come to the family reunion that you just don't get along with, but they're a part of your family too. You agree to disagree. That's what makes a wonderful tapestry of the community that we live in.  
"You bridge a gap by approaching it, not by ignoring it. We don't avoid conflict. It's uncomfortable, undesirable at times. But it's also the greatest opportunity to learn the truth."— PASTOR JAMES ALBERTS

You bridge a gap by approaching it, not by ignoring it. We don't avoid conflict. It's uncomfortable, undesirable at times. But it's also the greatest opportunity to learn the truth. I'm not talking about small disagreements like the color of shoes. These are consequential positions people have. If I can respect your position on a matter, and you can respect mine, then we can continue to be in the family.  
I've been in St. Cloud long enough to see the ebbs and flows of community solidarity. In the times where there is a lot of unease, there's a lot of work that follows to level-set. The evidence of that work can be seen in the fact that individuals are continuously making progress on difficult issues, not just pretending they'll go away.  
We try to be reflective. One lesson I have learned is to not wait for something bad to happen to stay in contact. Even with the people with whom we disagree, the more regular the communication, the more understanding that is available. We work at laying down the lines of communication so they can be used in good times as well as in bad.