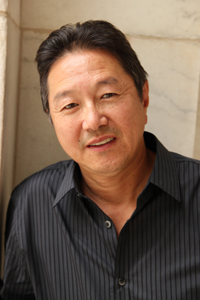 The McKnight Foundation has named Minnesota playwright, director, producer, theater artist, and musician Rick Shiomi as the 2015 McKnight Distinguished Artist, in recognition of artistic excellence spanning four decades. Now in its 18th year, the annual honor includes a $50,000 cash award and recognizes individual Minnesota artists who have made significant contributions to the quality of the state's cultural life.
"Given the breadth, scope, and importance of Rick Shiomi's artistic legacy, there is no single yardstick by which to measure his impact," said McKnight president Kate Wolford. "It is multifaceted, trailblazing, and extends well beyond his commitment to Asian American theater in the Twin Cities, and we at McKnight are honored to celebrate his accomplishments with this award."
A seminal leader of the Asian American theater movement since the 1980s, Rick Shiomi has written, produced, or directed over 50 plays during his career. He is perhaps best known as co-founder of St. Paul's Theater Mu, dedicated to bringing Asian American voices to the stage. Shiomi founded Theater Mu in 1992 and served as artistic director from 1993 through 2013. Under his leadership, Theater Mu became Mu Performing Arts and grew from a small start-up in an area where Asian American theater was almost nonexistent into a nationally recognized company. (The organization's name comes from the Korean pronunciation of the Chinese character for the shaman/artist/warrior who connects the heavens and the earth through the tree of life.)
Shiomi is the recipient of an Ivey Lifetime Achievement Award (2012), a Sally Ordway Irvine Award for Vision (2007), and a Minnesota State Council for Asian Pacific Minnesotans Award for Leadership (2002). His plays have been included in the anthologies Asian American Plays for a New Generation(Temple University Press, 2011), which he co-edited, and Bold Words: A Century of Asian American Writing, edited by Rajini Srikanth and Esther Iwanaga (Rutgers University Press, 2001). He was profiled in the January 2009 issue of American Theatre Magazine, the premier publication spotlighting trends in American theater.As a playwright, Shiomi's work includes the award-winning Yellow Fever, which has been produced off-Broadway, around North America and in Japan; was awarded the Bay Area Theater Circle Critics Award for best new play in 1982; and received rave reviews in the New York Timesand New Yorker. Other notable plays include Play Ball, Rosie's Cafe, Walleye Kid, Mask Danceand Journey of the Drum. As a director he has worked extensively with Mu Performing Arts, where his credits include Temple of Dreamsby Marcus Quiniones, Song of the Pipa(which he also wrote), an Asian-inspired production of A Midsummer Night's Dream, and the David Hwang version of Rodgers and Hammerstein's Flower Drum Song. His choice to direct plays from the American musical theater canon — including A Little Night Music, Into the Woods, and The King and I— provided rare and groundbreaking opportunities for Asian actors to perform in roles generally unavailable to them.
His work has been showcased locally at the Guthrie, Intermedia Arts, Mixed Blood, Ordway, Park Square, Stages, Southern, and SteppingStone theaters, among others; nationally at Asian American Theater Company (San Francisco), East West Players (Los Angeles), InterAct Theatre (Philadelphia), Pan Asian Repertory (New York), and Theatre Esprit Asia (Denver); and internationally at Firehall Theater in Vancouver and Haisho Theatre Company and Ryuzanji Theater Company, both in Tokyo.
Born and raised in Toronto, Shiomi's perspective as a Japanese Canadian figures prominently in his art and life. His parents were among the many Canadians of Japanese descent forced into internment camps during World War II; their experiences in the camp are a strong theme in many of his works. Shiomi graduated from the University of Toronto with a degree in history in 1970, received a teaching diploma from Simon Fraser University, and went on to travel the world, teaching in Japan and Hong Kong before returning to Canada, this time settling in Vancouver, British Columbia. In Vancouver, he helped organize the Powell Street Festival, edited a film designed to teach children about Japanese Canadian history, and became an active member of the Japanese Canadian Citizen's Association, where he helped edit Inalienable Rice: A Chinese & Japanese Canadian Anthology(Chinese Canadian Writers Workshop, 1973). It was during this time he met playwrights David Henry Hwang and Philip Kan Gotanda, both of whom were influential in his artistic development.
Shiomi has helmed a variety of national projects, panels, conferences and festivals, including co-founding the Consortium of Asian American Theaters and Artists (CAATA), the national service organization for the Asian American theater community, where he served on the board from 2006 through 2014. He has served on many Minnesota State Arts Board, Theater Communications Group and NEA panels and in 2014 was awarded a Doris Duke grant in the Building Demand for the Arts program to work with InterAct Theater and Asian Arts Initiative to develop Asian American theater and audiences in Philadelphia. Another major field of artistic work for Shiomi is Mu Daiko, a taiko group within Mu Performing Arts which he established in 1997. He was the leader of Mu Daiko through 2010, training drummers, composing taiko music and directing annual performances at multiple venues in Minnesota.
ABOUT THE McKNIGHT DISTINGUISHED ARTIST AWARD
The McKnight Distinguished Artist Award recognizes individuals who help lay the foundation for Minnesota's rich cultural life. Despite opportunities to work elsewhere, they chose to stay — and by staying, they have made a difference. Previous recipients are composer Dominick Argento (1998), ceramic artist Warren MacKenzie (1999), writer Robert Bly (2000), choral conductor Dale Warland (2001), publisher Emilie Buchwald (2002), painter Mike Lynch (2003), orchestra conductor Stanislaw Skrowaczewski (2004), sculptor Judy Onofrio (2005), theater artist Lou Bellamy (2006), sculptor Kinji Akagawa (2007), writer Bill Holm (2008), theater artist Bain Boehlke (2009), sculptor Siah Armajani (2010), dance artist Ranee Ramaswamy (2011), poet John Caddy (2012), theater artist Wendy Lehr (2013), and theater artist Sandy Spieler (2014). McKnight will honor Shiomi at a private reception later this year.
ABOUT THE McKNIGHT FOUNDATION
The McKnight Foundation seeks to improve the quality of life for present and future generations. Founded in 1953 and independently endowed by William and Maude McKnight, the Minnesota-based Foundation had assets of approximately $2 billion and granted about $86 million in 2014. Of that total, over $9 million went to support working artists to create and contribute to vibrant communities, because Minnesota thrives when its artists thrive.
MEDIA CONTACT
Na Eng, Communications Director, (612) 333-4220
RELATED LINKS
Mu Performing Arts co-founder Rick Shiomi wins top McKnight award, Star Tribune
McKnight honors Mu Performing Arts' Rick Shiomi, Minnesota Public Radio
Rick Shiomi wins 2015 McKnight Distinguished Artist Award, American Theatre
Mu Performing Arts founder Rick Shiomi receives top McKnight honor, Pioneer Press
Rick Shiomi wins McKnight Distinguished Artist award, Twin Cities Daily Planet
Rick Shiomi receives 2015 Distinguished Artist award, Backstage Pass with Lia Chang
Rick Shiomi Named 2015 McKnight Distinguished Artist, Philanthropy News Digest