A Reflection from Vickie Benson
Editor's note: As Arts program director Vickie Benson prepares to step down from the Foundation at the end of June, she reflects on the evolution of the Arts program. We salute Vickie for her 12 years of dedicated service and inspiring leadership, and we wish her well as she begins a new chapter.
---
As I prepare to leave the McKnight Foundation, I want to thank so many of you for participating in my journey. It has truly been an honor to represent McKnight. I am extremely grateful to the Arts team of Arleta Little, Sarah Berger, and Kristen Marx. I know they will continue to champion working artists, who create and contribute to our vibrant community. Below, I share a bit of McKnight's role in supporting artists over the decades.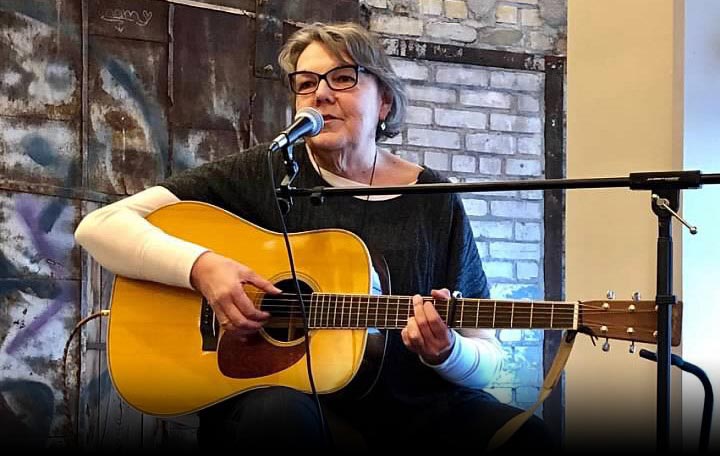 Fellowships: First Step in Artist Recognition
This year marks the 39th year of the McKnight Artist Fellowships. In 1981, before the Foundation had a dedicated Arts program staff, the board created the McKnight Artist Fellowships as a competitive award for midcareer artists. From the start, the discipline-specific fellowships were strategically placed in arts service nonprofits. Although the program was established as McKnight's, it was and continues to be carried out through our many partner organizations. Embedding the Fellowships in partner organizations proved to be meaningful in helping build Minnesota's arts ecosystem.
Statewide Support for Artists
Also in the early 1980s, McKnight contributed funds to 11 Regional Arts Councils (RACs), which regranted on our behalf. McKnight's funds have been distributed to artists, organizations, projects, education, and capital campaigns, and in 2011 the RACs aligned their McKnight regranting with our focus on working artists. Partnering with the RACs, McKnight supported the potential to fund working artists in all 87 Minnesota counties. Since 1991 McKnight has also had a robust grantmaking program for other arts organizations across the state.
Evaluating the Arts Ecosystem
Upon my arrival at McKnight in 2007, we commissioned an evaluation of Minnesota's arts funding environment. The Foundation was committed to the arts and wanted to maximize the impact of its support by focusing on a critical part of the arts ecosystem. The evaluation revealed that an increasingly neglected part of the arts community was the artists themselves, especially working artists.
Just prior to the evaluation, I had been introduced to a report by Maria Rosario Jackson et al. of the Urban Institute called Investing in Creativity: A Study of the Support Structure for U.S. Artists. This study resonated deeply with me.
One of its key findings, based on national polling, was that "the artist as creator of goods (works of music, film, literature, and so on) often appears to be divorced in the public mind from the good itself." Moreover, "even when an artist's work is recognized as valuable and goes on to influence individuals and society in many forms, the link between that good—and the effort and resources that went into making it—and the artist who made it is often invisible."
This revelation, while disturbing, offered us a way forward. By focusing on artists, we moved against the trend in arts funding, which at the time emphasized audience access to art.
"Artists contribute artistically, economically, socially, and culturally within our communities. By engaging public consciousness and discourse, artists can and do catalyze social change." —VICKIE BENSON, ARTS PROGRAM DIRECTOR
Valuing Working Artists and Spreading the Word
Studies such as these and McKnight's enduring commitment to Minnesota artists led us to our current program goal: "We support working artists to create vibrant communities. Minnesota thrives when its artists thrive." McKnight took the lead with its support of working artists, and we now find other funders following suit.
As part of its advocacy for working artists, McKnight believed it was important to increase public recognition of the value of artists to our communities. One collaborative result was Creative MN, a biennial project that delivers research to improve public understanding of art's importance to our quality of life and economy. In 2017, Creative MN reported that individual artists and creative workers in Minnesota composed a significant industry—one that annually generated $644 million in direct statewide economic activity out of more than $2 billion in overall arts economic impact.
In addition, we advocated for the inclusion of an arts and culture section in Minnesota Compass, the system that tracks and analyzes trends that affect the quality of life in our state.
McKnight's voice in support of working artists has also helped to further the goals of ArtPlace America and other creative placemaking initiatives. Because we knew rural artists to be some of the country's least visible, we worked to ensure that ArtPlace projects included community-based artist-driven efforts.

Vickie Benson has worked with many of Minnesota's artists and arts organizations, including Penumbra Theatre, Wing Young Huie, and Juxtaposition Arts.
Artists as Changemakers
In collaboration with McKnight colleagues in the areas of Region & Communities, Mississippi River, and Midwest Climate & Energy, we've funded artists in sectors that hadn't previously understood their work.
The US Water Alliance, for example, now consistently organizes a caucus of artists, as the group has recognized the significance of artists solving problems and driving public engagement. The Minnesota Department of Transportation now has an artist-in-residence program to help develop community collaboration and resolve thorny issues. With Midwest Climate & Energy, we co-funded the focus of Northern Spark's artists on climate change.
I've spent my career advocating for the value of artists across society, so it is wonderful today to see artists engaged in so many sectors beyond the arts. McKnight's involvement has been influential in this regard.
Reaching for Racial and Cultural Equity
Artists contribute artistically, economically, socially, and culturally within our communities. By engaging public consciousness and discourse, artists can and do catalyze social change.
When we say "Minnesota thrives," we mean all our rich and varied cultural traditions—from Ojibwe and Dakota people who have lived here for thousands of years, to communities of recent immigrants. Artists hold and communicate the values and traditions of our diverse communities, and they create and nurture new cultural identities anchored in community.
Organizations that support diverse communities of working artists are crucial to our strategies and to the arts ecosystem, but deep funding disparities persist. The data collected for Not Just Money: Equity Issues in Cultural Philanthropy (Helicon, 2017) showed that arts funding overall had become less equitable in the five years since a similar study, Fusing Art, Culture and Social Change (National Committee for Responsive Philanthropy, 2011), examined equity issues in the arts. In essence, arts and cultural philanthropy is not effectively or equitably supporting our evolving cultural landscape.
The statistics from these studies surprised and dismayed us, so our four-member Arts team started an inquiry that began with a look inward. We considered our own biases and our relationships with diverse communities. We broadened our relationships to include communities of artists missing from our portfolio, and we began to change our grantmaking portfolio to include more organizations led by people of color and indigenous people (POCI) who support working artists in their communities. We increased grants to POCI organizations already in our portfolio.
"When we say 'Minnesota thrives,' we mean all our rich and varied cultural traditions—from Ojibwe and Dakota people who have lived here for thousands of years, to communities of recent immigrants."—VICKIE BENSON, ARTS PROGRAM DIRECTOR
McKnight and the broader community are better because of the Penumbra Theatre, Theater Mu, Pangea World Theater, All My Relations Arts, Juxtaposition Arts, Mizna, TU Dance, and Teatro del Pueblo, all long-established organizations. We are also all better for the arrival of newer organizations including Gizhiigin Arts on White Earth Reservation, Indigenous Roots, the Somali Museum, and New Native Theatre, to name just a few.
These POCI-led cultural organizations are essential to our arts ecosystem. Yet, because of decisions based on negative stereotypes and unexamined cultural assumptions, they do not get a similar allocation of resources. To combat implicit bias and remove structural barriers, we reached out to colleagues and co-founded the Racial Equity Funders Collaborative—which includes the Bush Foundation, the Jerome Foundation, the Saint Paul & Minnesota Foundations, the Minnesota State Arts Board, and Propel for Nonprofits—to work toward establishing justice for procedures, processes, and resource distribution in philanthropy. Although doing so can be messy and uncomfortable, grantmakers must work to recognize and mitigate their own implicit biases.
McKnight's credibility, leadership, and willingness to be a strong funder of POCI organizations will continue to influence others and can make huge strides in racial equity funding. I am grateful to have been a part of this journey. I look forward to other endeavors where I can work for equity and—as always—stand with artists.
Arts Team Transition
Beginning June 1 and continuing through December 2019, Arleta Little and Sarah Berger will serve as interim co-leads for McKnight's Arts team. Arts grantees will still contact their assigned program officer. Otherwise, contacts for the Arts program can go through Kristen Marx.